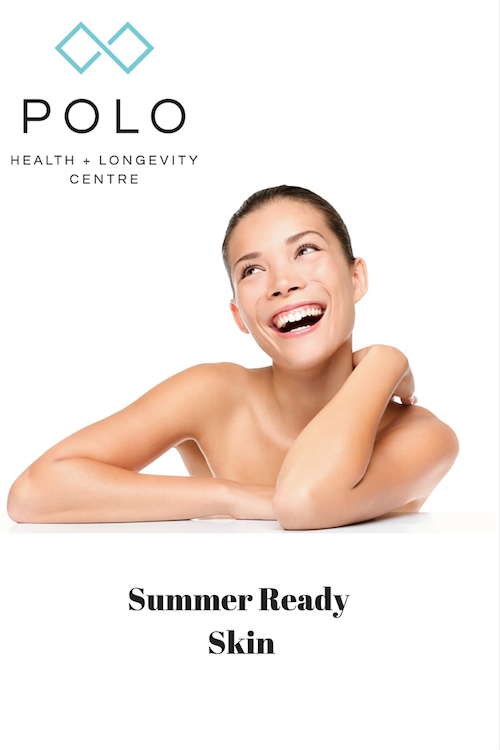 The long hot days of summer are here and all that sunshine has us thinking about helping you get and maintain that healthy sun-kissed glow. Sometimes though summer can wreck havoc on our skin: creating breakouts, signs of premature aging (from over sun exposure) and sunburn from too much sun. Protect your skin all summer long by investing in a good skin care routine that includes cleansing, exfoliation and sun protection (Read tips here).
It is also a good idea to look at ways you can ease damage already done, such as if you have signs of aging on the skin or are concerned with skin blemishes and conditions. We offer many services - from wrinkle reduction to Clairisonic deep cleansing to combating problem skin with naturopathic remedies. Ask us about tattoo removal too!
Here's a sample of the Aesthetic procedures and support for summer ready skin you can find at Polo Health.
BOTOX
This is an extremely effective procedure for reducing the appearance of fine lines and wrinkles, in particular those caused my facial movement (crow's feet, forehead wrinkles).
RENEVA DEPIGMENTATION TREATMENT
Treat hyperpigmentation, sunspots, melasma and promote even skintone with this microdermabrasian chemical peel system with antioxidant and exfoliant properties. It will reduce fine wrinkles, improve skin tone and reduce pore size.
Learn more.
DERMAL FILLERS Dermal fillers are a popular anti-aging treatment because of their range of application and ability to 'reverse' signs of aging such as volume loss, deep wrinkles, and sagging skin.
PLATELET RICH PLASMA
Platelet-Rich Plasma (PRP) Therapy is in high demand as an anti-aging procedure that mingles advanced technology with the body's natural capability to heal itself. In this procedure, the very own patient blood is separated into its active serum and platelet parts, that are then mixed with Calcium Chloride and injected into the wrinkles, folds and areas that need to be corrected.
LATISSE®
Allergan, the makers of Latisse®, has created a wonderful product that can extend length and volume to thin and sparse lashes. Latisse® solution is the first FDA approved easy-to-use at home treatment, to improve eyelash growth. When Latisse® is applied on a daily basis, eyelashes can become longer, fuller and darker. There has been a growing interest in this product ever since it was introduced due to its extraordinary results. Latisse® is a safe, convenient and non-invasive cosmetic procedure. It is the only lash growth product of its kind and is available by prescription only.
LASER/IPL
Photo Rejuvenation – Intense Pulse Light (IPL) uses a visible light that very effectively improves many of nature's imperfections. Treatments can be done on the face, neck, chest, arms, hands and back.
CLARISONIC
We sell the Clarisonic skin cleansing device, which can cleanse your skin 6x better than your hands alone. It is gentle for everyday use.
FOR COMPLICATED SKIN CONDITIONS
Our team of Naturopaths and Integrated Medicine Doctors are also available to help you heal from acne and other skin conditions.