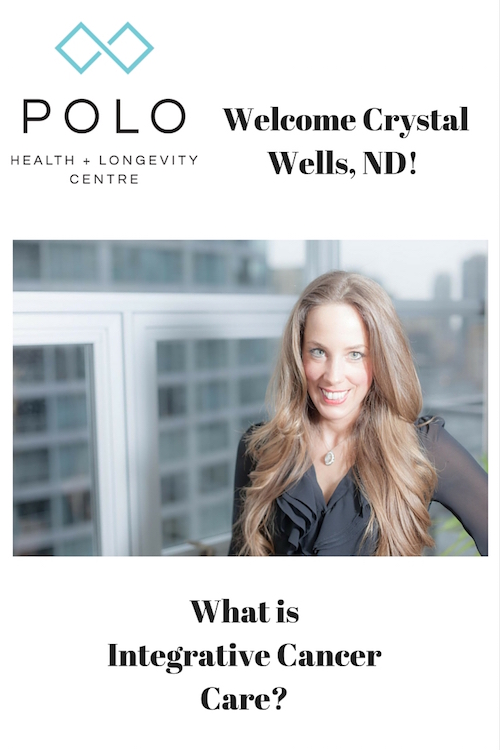 Welcome! I'd like to quickly introduce myself.
I am Dr. Crystal Wells, a naturopathic physician, and I have recently joined Dr. Allana Polo and her team as an associate at Polo Health. I spent the last 3 years practicing in Toronto and am very excited to be settling into a practice on the beautiful west coast!
One of my key focuses in practice is in Naturopathic Oncology. I was trained by members of FABNO (Fellows of the American Board of Naturopathic Oncology) to provide adjunctive cancer care for patients before, during and after their conventional treatments. Cancer, being very near and dear to me, has inspired me to build a career focussed on offering those with cancer a sense of hope, empowerment, and control over their lives and the treatment they choose to follow. During my time in Toronto, I held a discussion series at Wellspring Cancer Centre, a community-based centre for cancer patients and their families to receive support and awareness of available complementary cancer care treatments.

What is Integrative Oncology?
The goal is to improve quality of life for the patient at any stage in their cancer. I believe in treating the whole person- mind, body and spirit, and providing this support to both the patient and their families. Treatment is evidence-based, non-toxic, and patient-centred. Care is collaborative, and communication with other members of the patient's healthcare team allows for the best outcomes.
At Polo Health, I have designed a cancer care program. Although all patients receive an individualized treatment plan, our program provides the tools to optimize patient-centred care (the patient is at the centre and their values, needs and preferences guide the clinical decisions).
On their first visit, my patients usually come with one or a number of loved ones. We go through a thorough assessment, review reports, and go through some of the treatment options. As their complementary cancer care provider, I will always suggest what I feel is best for the patient, however the patient is always in the driver's seat when it comes to making treatment-based decisions. The therapies offered within the program are evidence-based and non-toxic to support the healing power of the body. Therapies and dosing will depend on where patients are in their conventional treatment (chemo, radiation, surgery) so as to not negatively impact this treatment.
These therapies are (but are not limited to):
Intravenous vitamin C (IVC)
High doses of vitamin C are administered directly into the bloodstream to achieve larger concentration in the blood as we by-pass gut absorption. At high doses, vitamin C accumulates in the cancer cells and acts as a pro-oxidant. Hydrogen peroxide accumulates in the cancer cell, causing the cancer cell to burst (apoptosis). The outcomes include: - slow cancer progression - improved energy and sleep - decreased nausea and improved appetite - improved quality of life.
Mistletoe therapy
European mistletoe is the most unconventional cancer treatment used in Europe. Through direct cytotoxicity (cancer cell death) and inhibition of tumor growth and metastasis, the most significant outcome is increased survival. Additionally, we see improved quality of life (appetite, sleep, energy, pain, mood, and tolerability to chemo), and decreased side effects to conventional treatment.
Clinical Nutrition
Patients are offered a specific supplement regime with goals of improving tolerance to conventional treatment, decreasing side effects, improving cytotoxicity (cancer cell death), and improving overall quality of life.
Dietary counselling
All patients receive an individualized diet plan based on their needs and their presentation.
If you or a family member have at any point been diagnosed with cancer, please feel free to contact us at Polo Health. I offer 15-minute complementary consults as a meet and greet to discuss options that best suit you from within our program! I look forward to meeting and journeying with you on the road to cancer wellness!