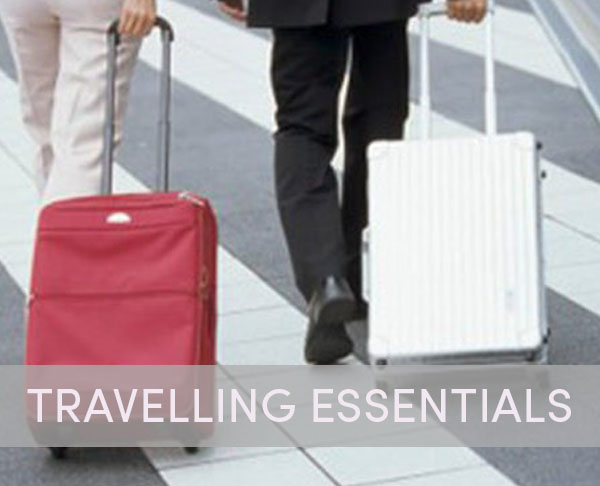 Summer break starts in just a few short weeks and that means that Canadians everywhere will be hopping on planes, jumping in cars and even catching trains to travel the great wide world. New Westminster Naturopathic Physician, Dr. Allana Polo, is here to make sure you make it to your travel destination happy and healthy with her recommendations of her favorite carry on essentials.
"

Spring break, summer break and Christmas break are the busiest travel times of the year," says Dr. Allana Polo, ND. "You want to spend your vacations enjoying time with your family making memories from beginning to end! Nobody wants to get sick or find that they are unprepared for a time when they should be happy, healthy and enjoying life! Naturopathic medicine shines in prevention and as a naturopath I always make sure my travel bag is packed with these essentials for good health!"
10 Carry-On Essentials You Don't Want To Leave Home Without
- Healthy Snacks: The temptation to load up on airport chips, candy and fast food is high. Avoid it by pre-packing snacks with you like nuts, seeds, dried fruit, granola bars, lara bars and even cut up fruit and vegetables if you are travelling domestically. Pro Travel Tip: If taking a trip where you are going through security, pack snacks in ziplock bags or clear containers so everything can be easily seen if security needs to go through it.
-Water Bottle: Avoid pop, coffee and alcohol which is sure to dehydrate you while your on route to your destination. Pack an empty water bottle that you can fill once you get through security. Electrolyte packets that you can add to water are also a great thing to pack. If purchasing beverages at the airport look for coconut water which is packed with electrolytes. Pro Travel Tip: If travelling with a filled water bottle, make sure to take a few final sips of water and then dump out the rest before heading into the security lineup.
-Hand sanitizer/disinfectant wipes:
Have you ever noticed that you get sick after flying? Between the recycled air, passing your passport back and forth between multiple hands and people touching everything, it's not uncommon to pick up cold germs. Keep your hands clean and your area germ free with hand sanitizer and disinfectant wipes.
-Aspartame Free Gum: Chewing gum while flying not only helps with the air pressure buildup in your ears, it also tricks your brain into not being tempted to boredom eat and mindlessly snack while you're watching that inflight movie.
-Zinc Lozenges, Vitamin C Lozenges and/or Elderberry Lozenges: Keep your immune system up, even if you're sitting next to Mr. Sneezy McCoughing by sucking on these immunity boosting lozenges while enroute to your destination.
-Oil of Oregano: Speaking of boosting your immune system, let us introduce you to our secret weapon-- Oil of Oregano. Take 5 drops before your flight and 5 drops once you land. It will stop those cold germs in their tracks!
-Shaker Cup With Protein Powder: No one enjoys a hangry traveller! Give yourself a protein boost by being prepared to whip up a shake during your travels! Just add water to your cup already preloaded with protein powder and you'll be good to go!
-Melatonin: It's not uncommon to find sleep a challenge while traveling. Interrupted sleep leads to a low immune system and no one wants to get sick on vacation. Melatonin helps with circadian rhythms which will help you sleep like a baby once you reach your travel destination.
-Sleep mask, ear plugs, travel pillow and comfy clothes: Speaking of sleep, if flying overnight be prepared! Block out the light and sound and let the gentle rhythm of travel rock you to sleep as you snuggle up with your travel pillow in your comfy clothes.
-Rescue Remedy: Last but not least, if you are an anxious traveller, calm those feeling naturally with Rescue Remedy. Rescue Remedy is available in tea bags so you can get a cup of hot water from the airport or flight attendant, enjoy a soothing cup of tea and say goodbye to those bad vibes.