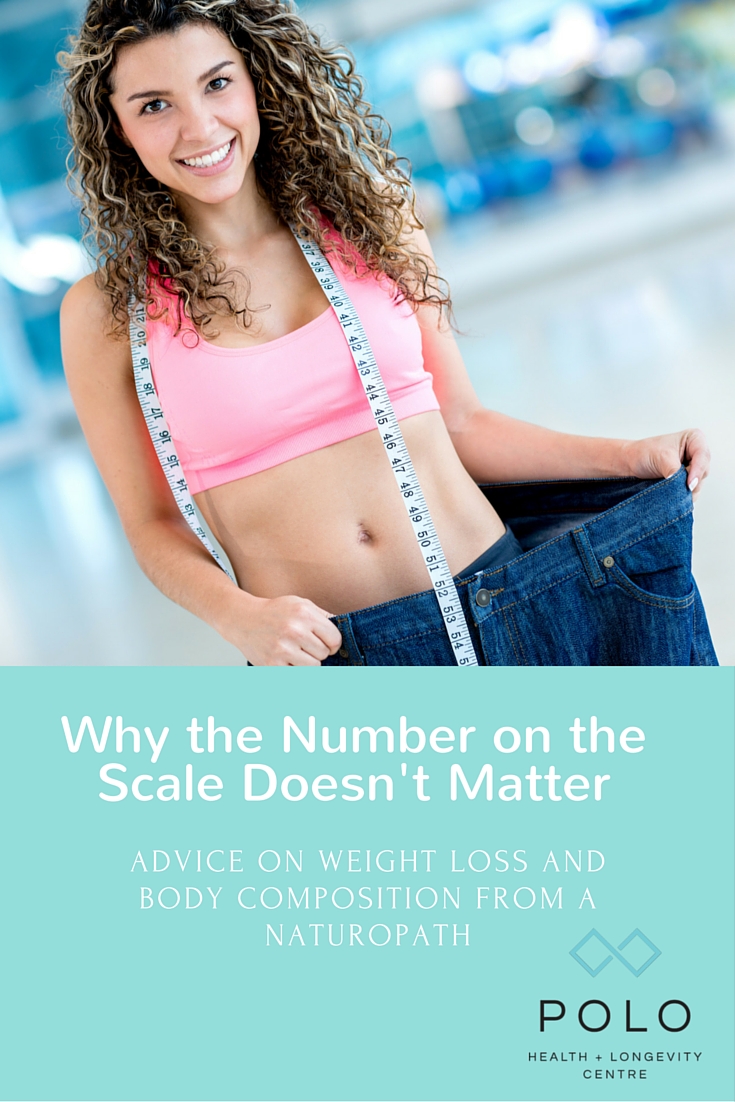 By Dr. Allana Polo
What the scale shows as your body weight is not a definitive assessment of body composition.
Body composition is used to describe the percentages of fat, bone and muscle in the human body. Because muscular tissue takes up less space in our body than fat tissue, our composition, as well as our weight, determines how lean we are. Two people of equal height and weight may look completely different from each other because their body composition varies greatly. In my practice I measure body composition using a bioelectrical impedance analysis (BIA), which uses the resistance of electrical flow through the body to estimate body fat. These measurements are not only more accurate than various other methods of testing used, but they are extremely reproducible, making them excellent for monitoring weight loss programs, nutritional or exercise intervention, sports training or other body composition altering programs.
Even after losing weight, you may be an ideal "number" on the scale, however your fat percentage may be too high and subsequently muscle mass too low, therefore producing unhealthy body composition. The excess fat is most likely visceral, meaning around the organs, and potentially the most dangerous kind of fat to have in terms of increasing risk factors for a cardiovascular disease.
Having excess fat on the inside but looking normal on the outside may result in disease risks that are similar to those who appear overtly overweight. Where fat accumulates also impacts the degree of risk. Excess fat that is concentrated near the waist or abdomen—generally referred to as an "apple" shape— greatly increases the risk of disease. Just because you look thin doesn't mean you are healthy! I have seen many "skinny" people huff and puff trying to get up a flight of stairs!
Consequences of an Unhealthy Body Composition
Being obese or having an unhealthy body composition is often associated with serious health risks and consequences such as:
- Heart disease
- Stroke
- High blood pressure
- High cholesterol
- Metabolic syndrome/ insulin resistance ( including high blood pressure, insulin and cholesterol)
- Type 2 Diabetes
- Joint and Back pain/ Arthritis
- Respiratory problems
- Kidney and liver and Gallbladder problems
- Hormonal imbalances due to estrogen being produced in fat tissues
- Sleep Apnea
- Excess fatigue
As a general rule, a waist circumference greater than 40 inches for men and greater than 35 inches for women significantly increases the risk of metabolic syndrome.
An Unhealthy Body Composition is easily reversible and can be changed with simple lifestyle modifications. It is not caused by solely one thing. Excessive fat accumulation can result from the imbalance between the calories ingested and the calories burned, a sedentary lifestyle or lack of physical activity, dietary habits such as a high-fat, high-sugar diet, overeating, excessive alcohol intake, hormone imbalance and other metabolic factors.
Achieving a Healthy Body Composition
A traditional approach to improving body composition includes exercise and reduced caloric intake, but nutritional supplementation may also offer additional, significant benefits. For example, one study comparing a doctor-supervised, nutrition-based body composition program to a popular, over-the-counter diet drink showed dramatically different results. Patients on the doctor-supervised program achieved 11 pounds of weight loss from fat and they actually increased their muscle mass. The patients on the over-the-counter diet drink lost the majority of their weight from muscle rather than body fat—despite being prescribed the same foods and exercise routine as those on the doctor-supervised program. This is a great reason to talk to your health-care provider about a program that helps you lose excessive weight.
You have the power to shape your body for better health. Take the first step to achieving healthy body composition.